Calliaqua
Sugar Hill, St James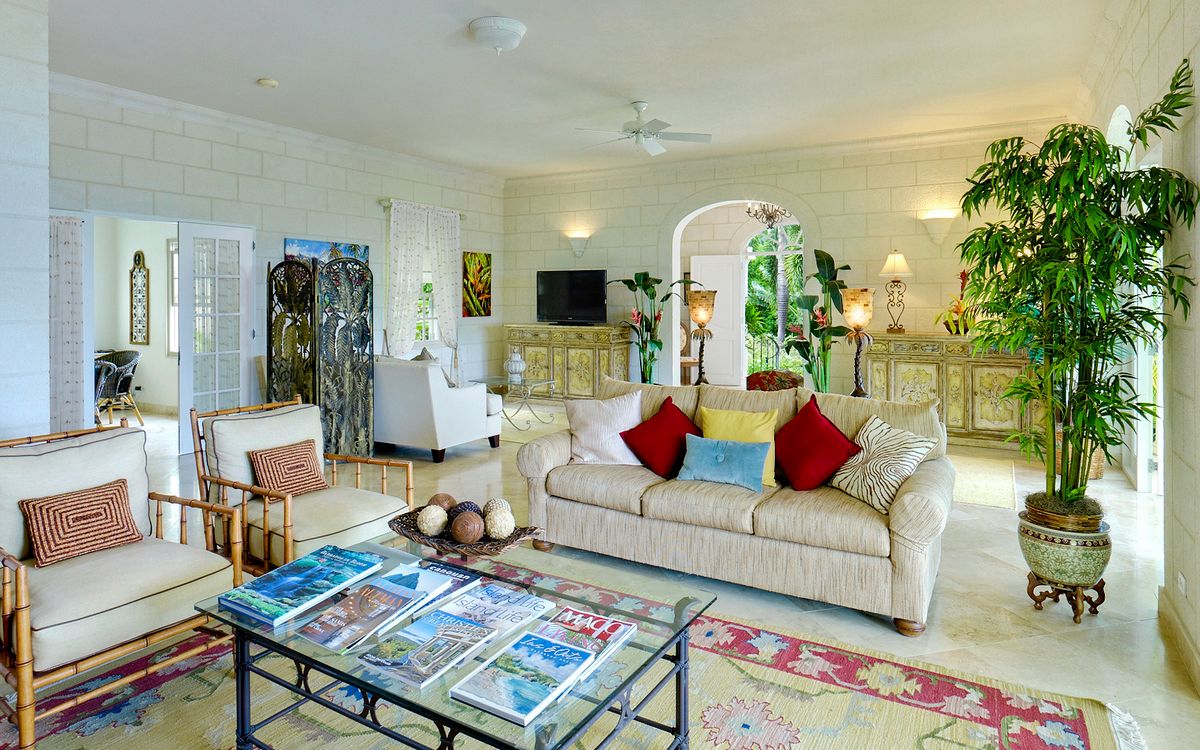 Minimum stay (nights): 5
5 beds
5 baths
Sleeps 6 to 10
Exclusive Sugar Hill villa set in one of the most finest positions with expansive terrace and uninterrupted views, bliss!
Please complete your details below to start your booking
---
Details
Enjoying an enviable location on the glamorous West Coast of Barbados, Calliaqua is one of the most sought-after luxury holiday villas for rent on the island.
Occupying one of the finest positions on the exclusive Sugar Hill Resort, Calliaqua boasts glorious, uninterrupted views of the Caribbean Sea, cooling tropical breezes and an acre of lush tropical gardens, the perfect recipe for outdoor living. Its expansive terrace features comfortable wicker sofas and an impressive coral stone dining table, set beneath a crystal chandelier. The expansive lagoon pool features a gently babbling waterfall sheltered by hibiscus and brightly coloured bougainvillea. Sunset cocktails are enhanced by the sweet fragrances from the garden and the myriad lights dotted around, provide a magical evening atmosphere. Further relaxation can be provided by the extensive music system featuring indoor and outdoor speakers.
Calliaqua caters comfortably for up to 10 guests with its four elegantly designed en-suite bedrooms and delightful one bedroom cottage. A stay at Calliaqua automatically provides membership at the nearby Fairmont Royal Pavilion Beach Club, ideally situated on one of the west coast's most beautiful beaches and offering access to water sports, beach restaurants, as well as loungers, umbrellas and beach bar service. Use of the exclusive Fairmont Beach Club paired with Calliaqua's lush and cooling hilltop location makes for an unbeatable Barbados combination.
The Calliaqua package includes a full complement of staff, 5-star villa amenities and the many high-quality facilities at Sugar Hill, including gym, flood-lit tennis courts, on-site restaurant and bar and large infinity pool.
Staff: Housekeeper, Cook, Security
Facilities
Wireless internet
tennis
sugar hill club membership
security system
safe
royal pavilion hotel beach club membership
restaurant
reception area
patio/terrace
near golf course
hair dryer
gym/fitness centre
gazebo
dvd player
ceiling fans
cd player
cable tv
air conditioned bedrooms
swimming pool
Location
Reviews
Beautiful villa, wonderful setting and great company! And the view from my room was priceless!
---
Out of this world experience. Fantastic hospitality, amazing house, views, beach, sea, etc! Thanks & we hope to visit again!
---
Calliaqua as a home away from home surpassed all expectations. The layout of the villa was perfect for our multi-generational family visit. The icing on the cake was the fabulous staff. Longing to return.
---
This is a beautiful island and an even more beautiful house and setting. We have discovered Barbados and Calliaqua and we WILL be back!
---
Wonderful spot with terrific view - had a great family vacation!
---
Just when we thought Barbados couldn't get any better, it did! This place is absolutely amazing!!
Rates
Rates shown subject to local taxes
Currency
3 Bedrooms (Sleeps 6)
Low season rates from:
| Period | Per night |
| --- | --- |
| 15/04/23 to 14/12/23 | $1150 |
| 15/12/23 to 07/01/24 | $3750 |
| 08/01/24 to 14/04/24* | $1800 |
* Subject to confirmation by the owner
4 Bedrooms (Sleeps 8)
Low season rates from:
| Period | Per night |
| --- | --- |
| 15/04/23 to 14/12/23 | $1450 |
| 15/12/23 to 07/01/24 | $3750 |
| 08/01/24 to 14/04/24* | $2100 |
* Subject to confirmation by the owner
5 Bedrooms (Sleeps 10)
Low season rates from:
| Period | Per night |
| --- | --- |
| 15/04/23 to 14/12/23 | $1650 |
| 15/12/23 to 07/01/24 | $3750 |
| 08/01/24 to 14/04/24* | $2500 |
* Subject to confirmation by the owner