Evergreen
Sandy Lane, St James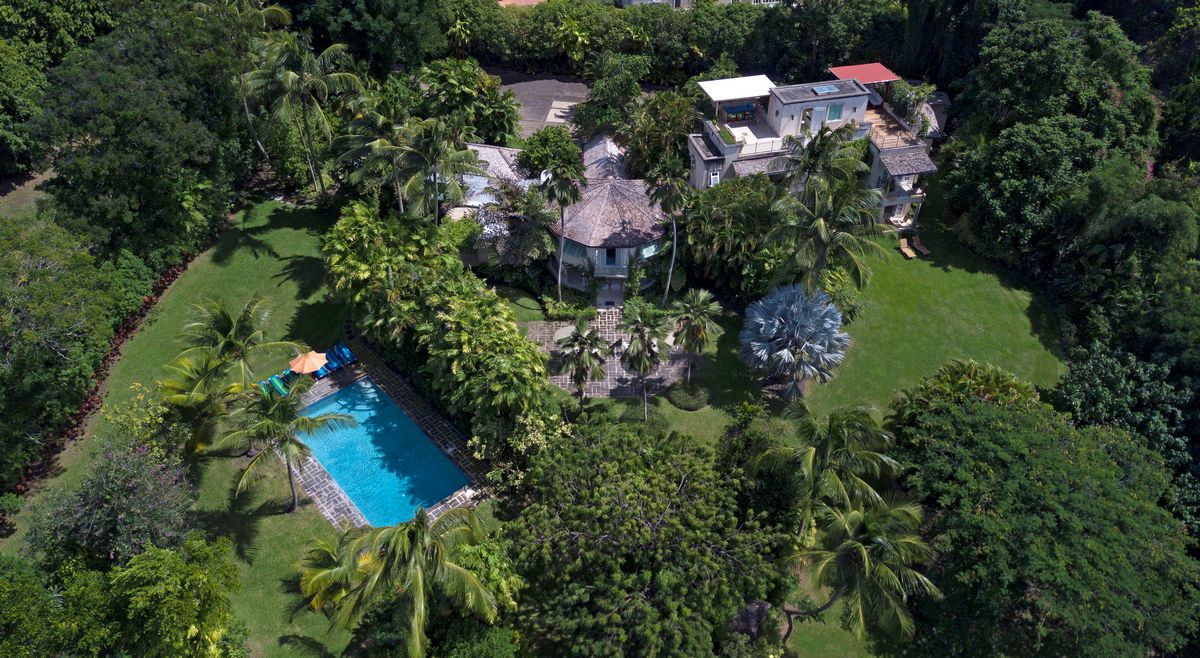 Minimum stay (nights): 7
4 beds
5 baths
Sleeps 6 to 8
Nestled amongst rolling gardens, with membership to Sandy Lane Beach Club, this palatial villa is where antiques and modern artwork comingle to produce a unique gem in the Barbadian landscape.
Please complete your details below to start your booking
---
Video
Details
Evergreen is a private and secluded estate nestled in the heart of over two acres of rolling mature tropical gardens. Located on the exclusive Sandy Lane Estate on the beautiful West Coast of Barbados.
This elegant rental villa is beautifully furnished with a unique mix of antiques and contemporary art pieces. Evergreen features four sprawling air-conditioned bedrooms, and five exquisitely designed bathrooms. Each bedroom has its own distinctive feeling with unique decorations and furnishings. One of the master bedrooms has an unrivaled view of the Estate gardens and two of the very gracious guest suites open onto the tropical gardens.
Evergreen truly is a treasure and offers the unique quality of featuring more common areas than any other villa of that size, all designed to suit the guests every possible mood. From the more formal living room to the expansive patios, the brand new state of the art family room that can sit comfortably a house full of guests for a movie on the big screen TV, to the Puncherie on the roof terrace, aptly named to reflect its perfect position to enjoy the best rum punch on the Island, while watching the sun set over the Caribbean Sea, without forgetting the Mondrian inspired bar and dancing floor, guests will never want to leave the house!
Guest can spend their vacation at the secluded pool, or down to the Sandy Lane Property Owners Beach Club, where Evergreen has its own cabana. Guests using the beach club will have access to complimentary beach loungers and umbrellas as well as an onsite bar and food service.
With its prime location on the Sandy Lane Estate, guests of Evergreen will be able to make the most of their holiday with dinner at Tides Restaurant, a round of golf at Royal Westmoreland Country Club or a private guided island tour of Barbados.
Whether its strolling through the gorgeous gardens, enjoying a rum bunch and a Bajan sunset or sitting at the beach, Evergreen truly is a gem in beautiful Barbados.
Staff: Housekeeper, Cook with 3 bedroom bookings
Housekeeper, Cook, Maid/Laundress with 4 bedroom booking
Facilities
A/C - Bedrooms and Select Rooms
Bar
BBQ Grill
Beach Club Access
Beach within 1KM
Cable/Satellite Channels
Ceiling Fan - Select Rooms
Cul-De-Sac
Dishwasher
DVD / BLU Ray Player
Fax Machine
Full Enclosed Property
Golf Course On-Site
Golf Course within 1 KM
Laundry Dryer
Near Sandy Lane Hotel
Ocean View
Outdoor Dining
Patio
Pool
Safe
Sound System / Music Dock
Study
Television
Upgraded Kitchen
Washing Machine
Wi-Fi Internet
Location
Reviews
Beautiful house and gardens and exceptional staff who looked after us so well we didn't want to leave
---
5 out of 5 stars. Eight of us stayed for 2 weeks
---
and the staff were wonderful. The cook made us lovely meals. The bedrooms were lovely
---
and everything was kept to a high standard. The gardens were perfectly kept
---
in fact the best garden in the area. The use of Sandy lane beach with a cabana was great. There were 2 turtles swimming there most days!
Rates
Rates shown subject to local taxes
Currency
3 Bedrooms (Sleeps 6)
Low season rates from:
| Period | Per night |
| --- | --- |
| 16/04/23 to 19/11/23 | $1700 |
| 20/11/23 to 14/12/23 | $2200 |
| 15/12/23 to 15/01/24 | $3800 |
| 16/01/24 to 15/04/24 | $2200 |
| 16/04/24 to 19/11/24 | $1700 |
4 bedrooms (sleeps 8)
Low season rates from:
| Period | Per night |
| --- | --- |
| 16/04/23 to 19/11/23 | $1700 |
| 20/11/23 to 14/12/23 | $2500 |
| 15/12/23 to 15/01/24 | $3800 |
| 16/01/24 to 15/04/24 | $2500 |
| 16/04/24 to 19/11/24 | $1700 |