Horizons
Sandy Lane, St James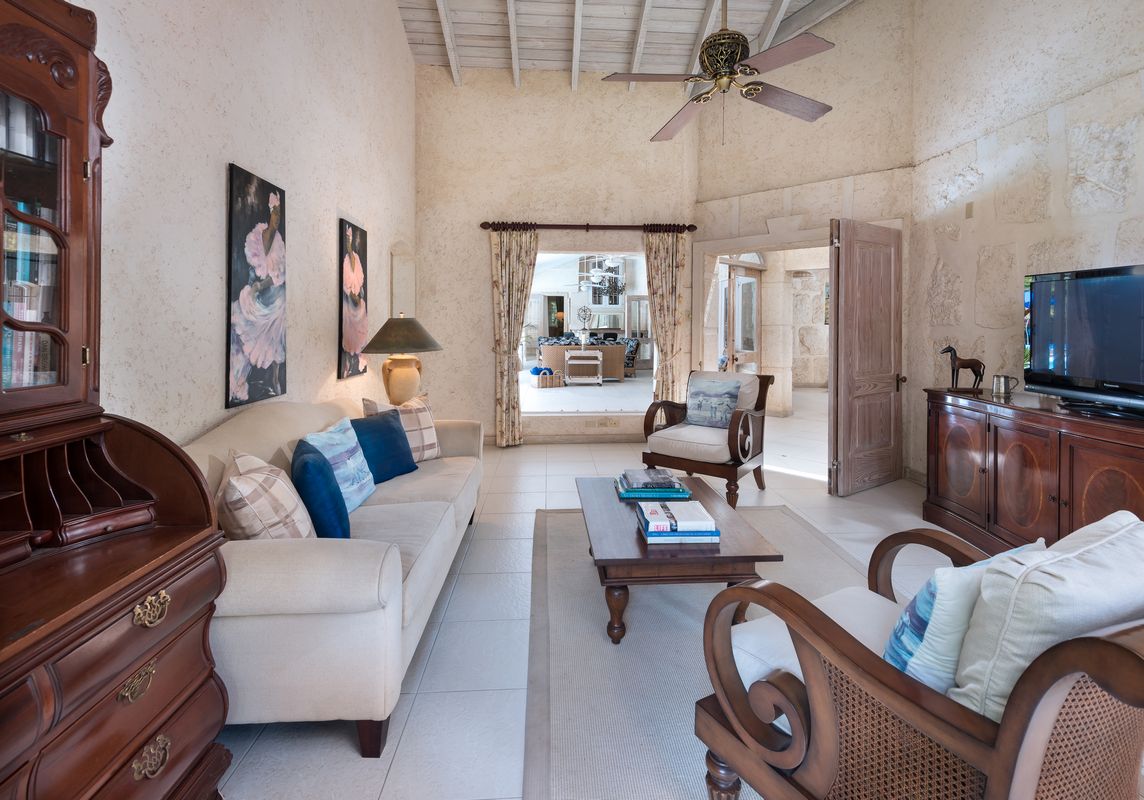 Minimum stay (nights): 5
7 beds
5 baths
Sleeps 10 to 14
Newly renovated luxurious villa and set within extensive private grounds , just 5 minutes to Sandy Lane Private Owners Beach Club!
Please complete your details below to start your booking
---
Video
Details
Located within a quiet cul-de-sac on the grounds of the prestigious Sandy Lane Estate is Horizons, an outstanding villa set out over 10,000 square feet, surrounded by two acres of beautifully landscaped tropical gardens. With views straight onto the world-renowned Old Nine Golf Course, this villa is just a 5-minute drive from the Sandy Lane Owner's Beach Club and the Sandy Lane Hotel.
On entry through the entrance foyer, you can't help but feel impressed by the luxurious indoor/outdoor living design and the open plan living/dining area, which wraps around the swimming pool and outdoor pool deck. The dining room is adjacent to the living area, which has a beautiful custom-made extendable dining table and can seat up to 14 guests. Next door, the kitchen is modern, stylish, and fully equipped with professional equipment. There is also a fully air-conditioned media room which features a 75" smart TV, a super comfortable sofa set up and a wide range of board games, as well as a backgammon table for those wanting to play a few games! Finally, for the more active guests, there is an air-conditioned exercise room in the basement with professional gym equipment, including both cardio and weights.
The accommodation at Horizons is laid out over three floors with seven beautifully designed bedrooms, contemporary style bathrooms and comfortably sleeps a maximum of 14 guests. The master suite, located on the first floor, has a king-size bed and a large en-suite bathroom boasting a double vanity, W/C, large walk-in shower and a free-standing bathtub. This suite also enjoys a seating area leading onto a private balcony overlooking the pool deck and dining gazebo. The other first-floor suite also boasts a king-size bed, spacious en-suite bathroom and leads out onto its private balcony with views over the manicured gardens. There are three further en-suite bedrooms; one suite has a spacious bedroom with a king-size bed, a beautiful bathroom with a large walk-in shower, and a free-standing bathtub. There is also a seating area with doors open straight onto the pool deck. The other two bedrooms are on the west side of the pool and are similar, with views across the swimming pool and the gardens.
There are two further bedrooms on the lower ground floor, which share an en-suite bathroom with both a walk-in shower and a free-standing bathtub. These bedrooms are perfect for those wanting to be separate from the leading group. The pool deck benefits from a large outdoor swimming pool, with luxurious sun loungers and parasols for those wanting some shade. There is also a large open flame fire pit at one end of the swimming pool, allowing guests to enjoy comfortable outdoor seating, ideal for relaxing during the day or the perfect place to enjoy a pre-dinner cocktail at sunset.
The beautifully designed dining gazebo boasts a fully-equipped cooking area complete with a large BBQ and a beautiful custom-made teak dining table that is extendable and can seat up to 14 guests. The pool deck also enjoys a wet bar, which proves a popular place for after-dinner drinks under the moonlit Caribbean sky. Our dedicated team goes above and beyond to cater to you throughout your stay.
Guests staying at Horizons can take advantage of exclusive access to the private Sandy Lane Property Owner's Beach Club, where there is a fully staffed bar on-site with drinks, light snacks and lunch on sale. Other amenities such as sun-loungers, parasols, complimentary wi-fi internet and bathroom/shower facilities are also available, making it a wonderful place to relax and enjoy the sea views and ocean breeze.
Staff: Chef, Housekeeper, Laundress
Facilities
Air Conditioning
Bar
BBQ
Beach Cabana on Sandy Lane Beach
Cable TV
Ceiling Fans
2 Acre Ground
Fully Gated
Private Gym
Private Swimming Pool
Safe
Terrace
Wi Fi
Location
Reviews
I've had several visits to the beautiful island of Barbados but this has by far been the best trip. My stay at Horizons has been absolutely wonderful and I hope I have another opportunity to vacation here again.
---
During my many visits here in the past, always staying in a villa, this by far ranks at the very top. The staff, the grounds, the location and the villa is stunningly beautiful. This by far has been a dream vacation of a lifetime.
---
Thank you so much for our 2 weeks at Horizons, we had a wonderful time, the staff were fantastic which made our stay even better! Look forward to next year.
---
We had a fantastic family holiday at Horizons. Thank you so much to Fernelle & Cheryl who made us feel right at home. Everything was perfect.
---
A wonderful stay in beautiful Horizons. Thank you to all of the fantastic staff who wors so hard. Lovely to be back on this beautiful island after a ten-year gap!!
Rates
Rates shown subject to local taxes
Currency
5 Bedrooms (Sleeps 10)
Low season rates from:
| Period | Per night |
| --- | --- |
| 11/01/23 to 14/04/23 | $5225 |
| 15/04/23 to 14/12/23 | $3300 |
| 15/12/23 to 19/12/23 | $5225 |
| 20/12/23 to 10/01/24 | $8250 |
| 11/01/24 to 14/04/24* | $5225 |
*Subject to confirmation by Owner
6 Bedrooms (Sleeps 12)
Low season rates from:
| Period | Per night |
| --- | --- |
| 11/01/23 to 14/04/23 | $5500 |
| 15/04/23 to 14/12/23 | $3850 |
| 15/12/23 to 19/12/23 | $5500 |
| 20/12/23 to 10/01/24 | $8250 |
| 11/01/24 to 14/04/24* | $5500 |
*Subject to confirmation by Owner
7 Bedrooms (Sleeps 14)
Low season rates from:
| Period | Per night |
| --- | --- |
| 11/01/23 to 14/04/23 | $6000 |
| 15/04/23 to 14/12/23 | $4000 |
| 15/12/23 to 19/12/23 | $6000 |
| 20/12/23 to 10/01/24 | $7500 |
| 11/01/24 to 14/04/24* | $6000 |
*Subject to confirmation by Owner