Jalousie
Mullins, St Peter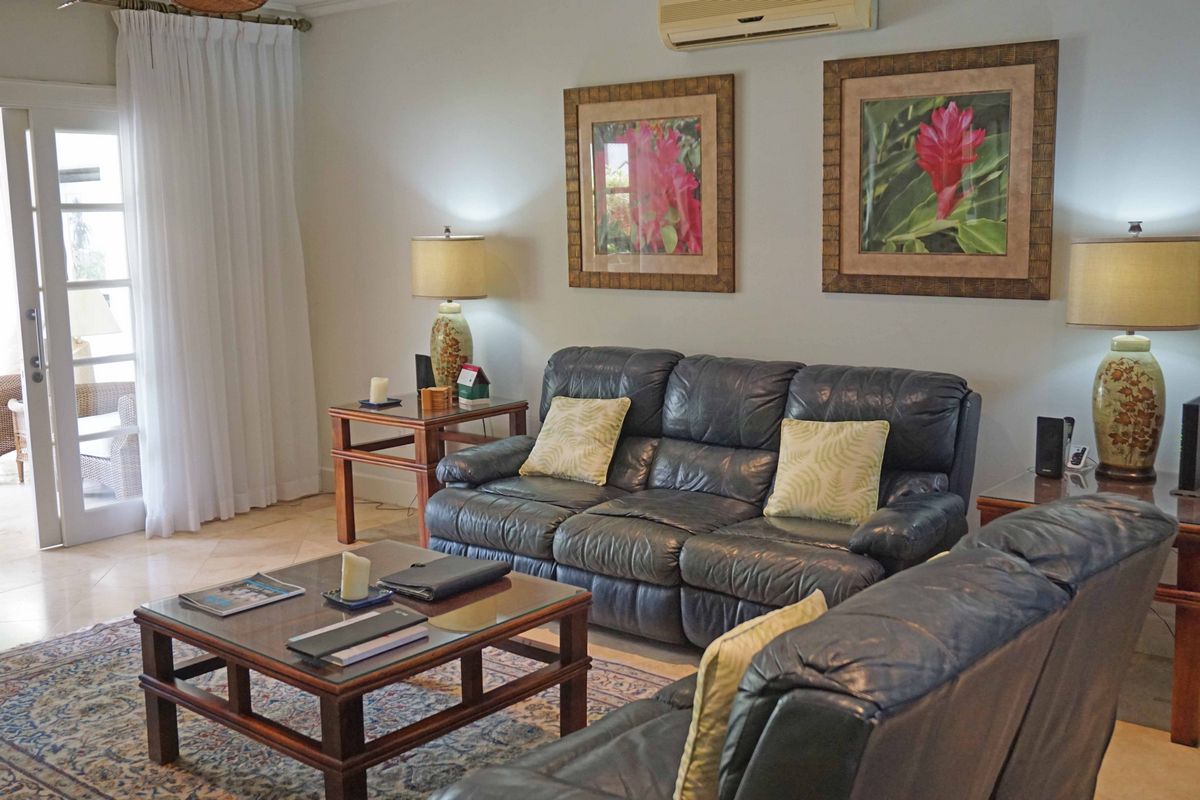 Minimum stay (nights): 5
4 beds
4 baths
Sleeps 6 to 8
Charming townhouse with natural stone flooring and plunge pool is just a stroll away from pristine Mullins Beach and perfect for an intimate getaway.
Check price and availability
Please complete your details below to start your booking
---
Details
Located on the exclusive West Coast of Barbados, this four bedroom townhouse in Mullins Bay development (formally known as the Sugar Bay development) is just a stroll away from the famous Mullins Beach. Tastefully furnished, "Jalousie" is a three storey townhouse with all air-conditioned and en suite bedrooms. The Master bedroom occupies the entire top level and from the bedroom terrace there is a partial sea view as well as a view of the Spa swimming pool. The Master bedroom is furnished with a King size bed and is complete with a shower and large tub.
The first floor comprises of two further bedrooms which are furnished with a Queen bed and 2 zip and link Twin beds; which can be made into a King sized bed. These bedrooms share a terrace.
The ground floor comprises of the lounge, kitchen and fourth bedroom. This room is furnished with a Queen bed and is the only room which is not en suite but it shares the powder room (which is right next to the room). The lounge leads onto a covered patio and outdoor dining area near the pool.
Guests staying at Mullins Bay 11 will have access to the Royal Westmoreland Beach Club situated at Mullins Beach.
Note: Three bedroom rentals are not inclusive of the Master Bedroom on the top floor.
Staff: Housekeeper
Facilities
Near Beach
West Coast
CD player
DVD player
Ceiling fans
Bar-B-Q
Gym
Hair Dryer
Cable TV
Near Holetown
Near Speightstown
Safe
Stereo
Air-conditioned Bedrooms
Tennis
Wi Fi
Maid/Laundress
Plunge Pool
Spa Pool
Swimming Pool
iPod docking station
Location
Reviews
We had an awesome vacation and absolutely loved Jalousie. We've been renting homes and condos since 2005 and this has to be the best home we've stayed in. Just an amazing villa.
---
A spacious, very comfortable and well-appointed residence. We were very well looked after and the villa was kept clean and tidy. Also our laundry was done with a smile! We like Jalousie so much we've already rented on two occasions, and plan to do so again. The fact that it is based in a gated community with 24/7 security is good for peace of mind. Everything you need for an enjoyable and relaxing holiday is provided. The good location close to all the amenities and only 50 yards to Mullins Beach where spaces and loungers are reserved for guests, with waiter service. A great place to stay!
Rates
Rates shown subject to local taxes
Currency
3 Bedrooms (Sleeps 6)
Low season rates from:
| Period | Per night |
| --- | --- |
| 16/04/22 to 15/12/22 | $506 |
| 16/12/ 22 to 03/01/23 | $1375 |
| 04/01/23 to 15/04/23 | $770 |
| 16/04/23 to 15/12/23* | $506 |
| 16/12/23 to 03/01/24* | $1375 |
*Subject to confirmation by Owner
4 Bedrooms (Sleeps 8)
Low season rates from:
| Period | Per night |
| --- | --- |
| 16/04/22 to 15/12/22 | $577 |
| 16/12/ 22 to 03/01/23 | $1485 |
| 04/01/23 to 15/04/23 | $918 |
| 16/04/23 to 15/12/23* | $577 |
| 16/12/23 to 03/01/24* | $1485 |
*Subject to confirmation by Owner