Ocean Heights
Prospect, St James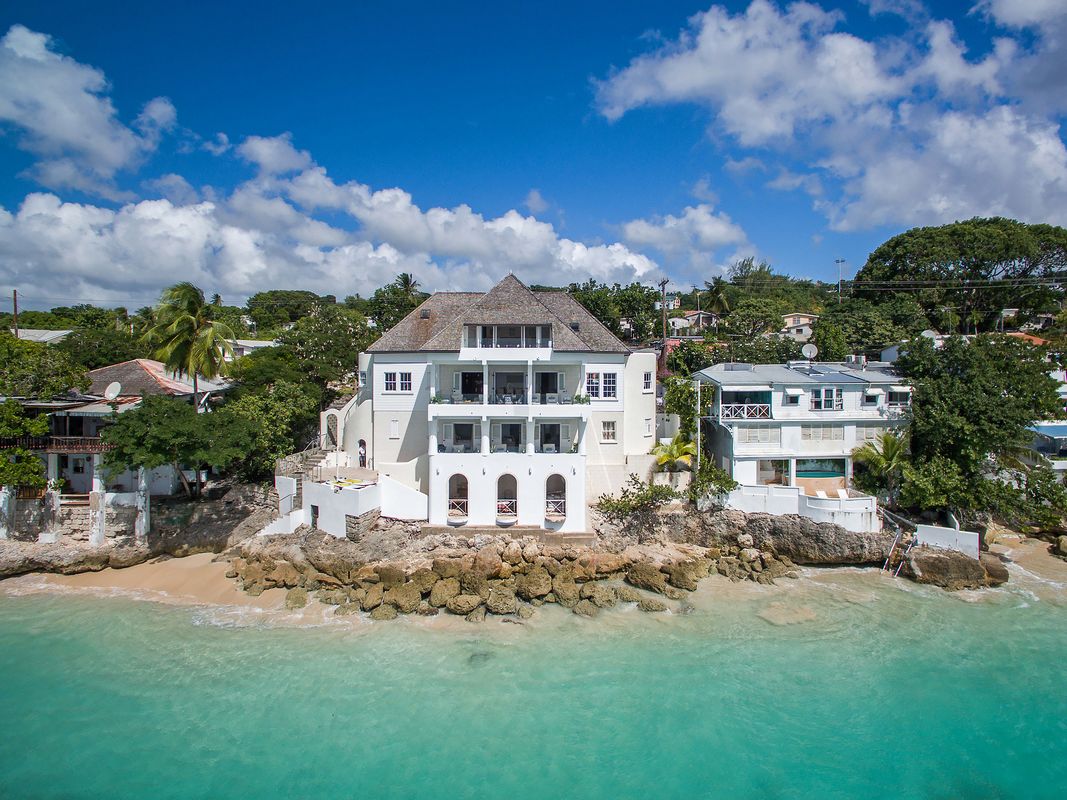 Minimum stay (nights): 7
7 beds
5 baths
Sleeps 9 to 12
Luxurious beachfront home with breath taking ocean view balconies, perfect for relaxation!
Please complete your details below to start your booking
---
Video
Details
Ocean Heights is located in Prospect, St. James. It's position is directly on the cliff front and this beach front villa offers phenomenal ocean views from each and every level. The house is spread over three levels, each with balconies and tremendous views. The lowest level is made up of 3 en-suite bedrooms with a central lounge space between the bedrooms.
Two bedrooms also open up to a private covered terrace which lead to the direct beach access from the property. Up one flight of stairs to the main level which is great for entertaining, this spacious floor comprises of large dining room, a well-lit living space , modern kitchen and extensive covered patio. The large windows in the dining room and kitchen allow for jaw-dropping sea views while in the comfort of a wide open space. This unique villa has a third floor completely dedicated to the master suite.
The entrance to the master suite is hidden and accessed through the bookcase in the living room. This bookcase comprises of two well hidden doors; one leads to an extra storage area and the other leads to the staircase of the master suite. The master suite comprises of walk-in closet, dressing area, en suite bathroom including tub and shower and a small area which can be used as a study or lounge. the top floor takes advantage of the views as you can see the ocean from every part of the master suite including its private balcony. Ocean Heights has a private beach access at the side of the property making it a 6 bedroom villa on the beachfront.
There are actually 7 rooms.
In the main house there are
4 queens with en-suite
One single without bath.
The apartment has one twin room and one single which share a bathroom
Staff: Housekeeper, Laundress
Facilities
Free parking
Air Conditioning
TV
Wireless internet
Washer & Dryer
BBQ Grill
Dishwasher
Hair dryer
Bed linens
Extra pillows and blankets
Towels
Iron
Location
Reviews
Ocean Heights was perfect for us. The house being right on the beach was great for the kids as they could go straight in to the sea. The staff were really helpful and so nice to us all and kept the house very clean and tidy for us. I'd definitely recommend it for a large family or group of friends.
---
10 girls on our annual trip. For 8 years we go to a different island. Barbados was by far our favourite. The home is absolutely gorgeous. There's a really cute beach about 5 min walk from house You'll definitely see monkeys on your way there. Great drinks & food. We all agree that our favourite part of the house is the two lovely girls that work there. Marquita is a fantastic cook & super easy to live with. Sonia, is a Gem too. We can't wait to return to Ocean Heights.
Rates
Rates shown subject to local taxes
Currency
Entire Villa incl Apartment (sleeps 12)
Low season rates from:
| Period | Per night |
| --- | --- |
| 15/04/23 to 14/10/23 | $1440 |
| 15/10/23 to 15/12/23 | $1800 |
| 16/12/23 to 10/01/24 | $On request |
| 11/01/24 to 14/04/24* | $1800 |
| 15/04/24 to 14/10/24* | $1440 |
*Subject to confirmation by Owner
Main House excl Apartment (sleeps 9)
Low season rates from:
| Period | Per night |
| --- | --- |
| 15/04/23 to 14/10/23 | $1200 |
| 15/10/23 to 15/12/23 | $1440 |
| 16/12/23 to 10/01/24 | $On request |
| 11/01/24 to 14/04/24* | $1440 |
| 15/04/24 to 14/10/24* | $1200 |
*Subject to confirmation by Owner