Shangri La
Polo Ridge, St James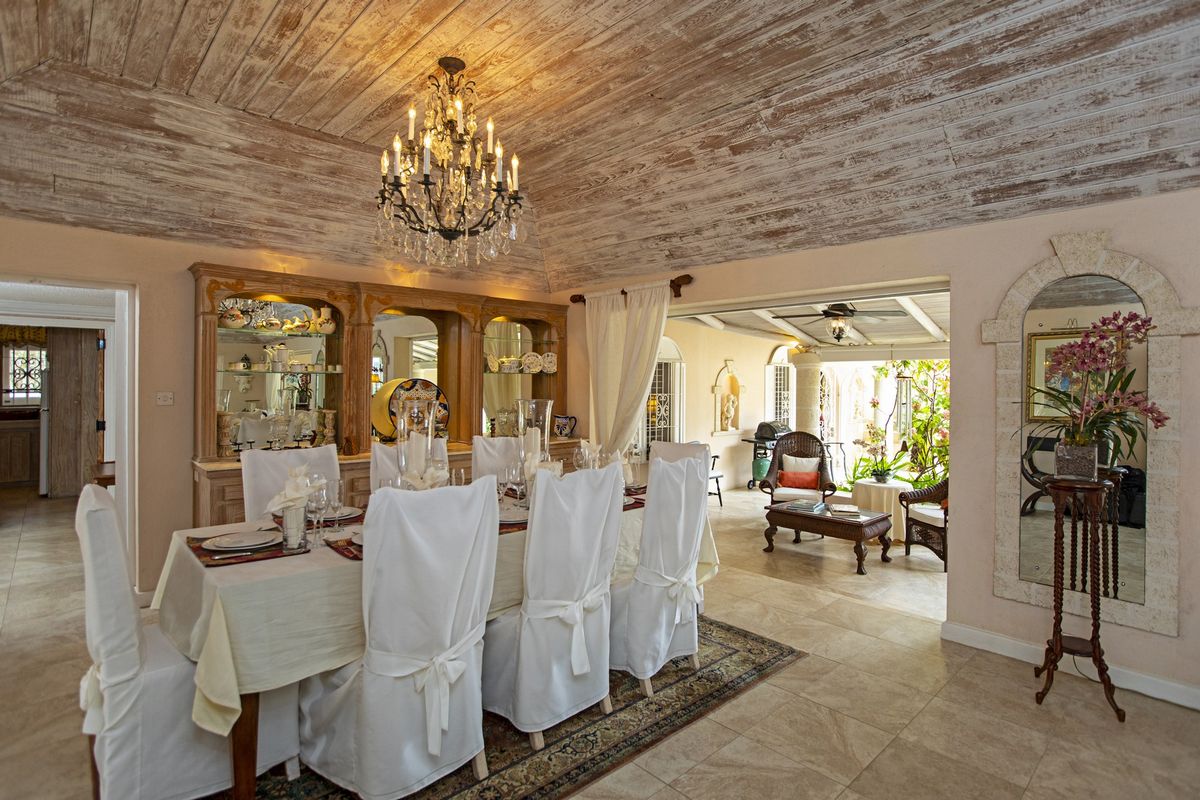 4 beds
3.5 baths
Sleeps 8
Spanish influenced villa scattered with stately water features and columns spreads its one story over large grounds such that, at night, the unobstructed cosmic sky above is star-filled and twinkling.
Check price and availability
Please complete your details below to start your booking
---
Details
This grand Spanish influenced one story villa is perfect for those who enjoy outdoor living, entertaining and unobstructed sea views. Shangri-La is set among lush tropical plants and boasts a large swimming pool featuring a sun bathing patio. All throughout, a classic sense of timeless luxury abounds with coral, marble and colonial details.
Shangri-La was purposely built on one level to create a spacious Spanish style villa that can comfortably accommodate up to eight people. The property is especially great for nature lovers given the panoramic views of the Caribbean sea, pool and palm trees. At night, the experience is enchanting and memorable with warm breezy air and star-filled skies.
The home is equipped with a full media room outfitted with an LCD flat screen television, Blueray/DVD player and stereo, all installed in a custom designed cabinet. A collection of videos, DVDs and CDs, as well as games and cards are also provided. The villa has four en suite bedrooms; each air-conditioned and professionally decorated. The bedrooms are named in accordance with the décor: The White Room, The Polo Room, The Princess Margaret Room and The Master Bedroom.
Staff: Housekeeper/Laundress,Cook, Security Guard
Facilities
All bedrooms air conditioned
BBQ
Breezy location
Cable TV
Ceiling fans
Close to beach
Covered terrace
Dining Gazebo
Gated
Hair dryer
Media Room
Night watchman
Panoramic Sea Views
Security Alarm
Sun loungers
Sun terrace
Swimming Pool
WIFI
Location
Reviews
Exceeded expectations on all levels. House, grounds, and location were excellent and staff very accommodating.
---
A beautiful villa, well located in a quiet area with great views of the sun setting over the sea.
---
We had a wonderful holiday in Barbados, loved the house, the staff, location, the pool and the island.
Rates
Rates shown subject to local taxes
Currency
4 Bedrooms (sleeps 8)
Low season rates from:
| Period | Per night |
| --- | --- |
| 15/04/22 to 14/12/22 | $1300 |
| 15/12/22 to 19/12/22* | $1800 |
| 20/12/22 to 10/01/23 | $2200 |
| 11/01/23 to 14/04/23 | $1800 |
| 15/04/23 to 14/12/23 | $1300 |