Tradewinds Sandy Lane
Sandy Lane, St James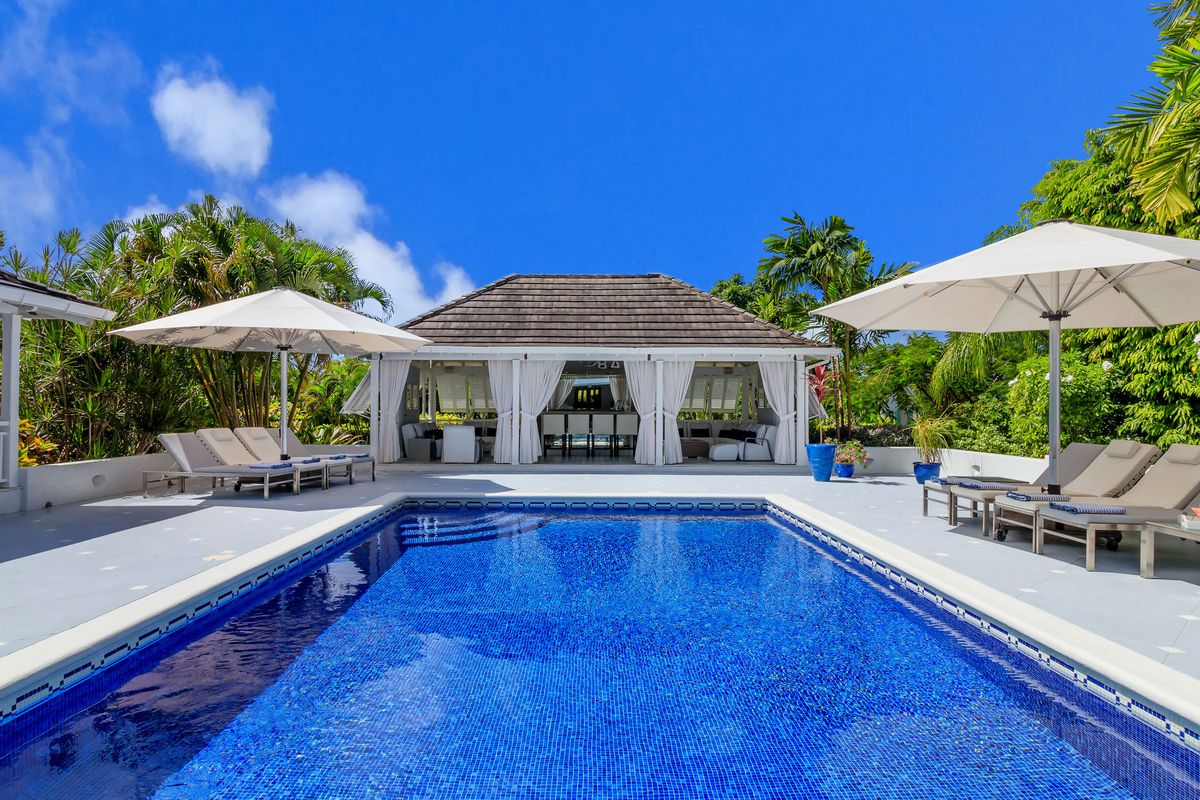 5 beds
5.5 baths
Sleeps 10
Strikingly beautiful property is centred around its glamourous, blue tiled swimming pool and beckoning outdoor gazebo.
Please complete your details below to start your booking
---
Video
Details
Tradewinds, a striking five bedroom mansion within the prestigious Sandy Lane Estate. Spacious, luxurious and private, an ideal getaway for a group of friends or family.
The immaculate interior-designed living space features dining terrace, wet bar, lounge gazebo, sun deck, well-equipped kitchen and private swimming pool. Up to 10 guests can comfortably stay in the villas 5 en-suite bedrooms.
The master encompasses the entire top floor with 2 balconies on each side. Staff included are Chef, Butler, Housekeeper, Laundress and Gardener.
Just minutes from beautiful West Coast beaches, you will have access to the Sandy Lane Beach Facility's private cabana, tennis courts and golf course.
Also close by are waterfront restaurants, boutiques, duty-free shopping and beach bars.
Staff: Housekeeper/Cook, Laundress and assistant Housekeeper (Summer bookings)
Housekeeper/Butler, Chef, Laundress and assistant Housekeeper (Winter and Christmas bookings)
Facilities
Private swimming pool
Beach cabana on sandy lane beach
Dining gazebo
Wet bar
Media room
Fully staffed - private chef & butler
Fitness room
Location
Reviews
Had a great time at Tradewinds & on Sandy Lane beach. We only like modern villas and we enjoyed the décor here. Staff were great too. I particularly loved relaxing in the bar area. My wife loved Sandy Lane beach.
Rates
Rates shown subject to local taxes
Currency
5 Bedrooms (Sleeps 10)
Low season rates from:
| Period | Per night |
| --- | --- |
| 11/01/23 to 14/04/23 | $4000 |
| 15/04/23 to 14/12/23 | $3000 |
| 15/12/23 to 19/12/23 | $4000 |
| 20/01/23 to 10/01/24 | $6000 |
| 11/01/24 to 14/04/24 | $4000 |
| 15/04/24 to 14/12/24* | $3000 |
*Subject to confirmation by Owner