Waterside Apartment 405
Paynes Bay, St James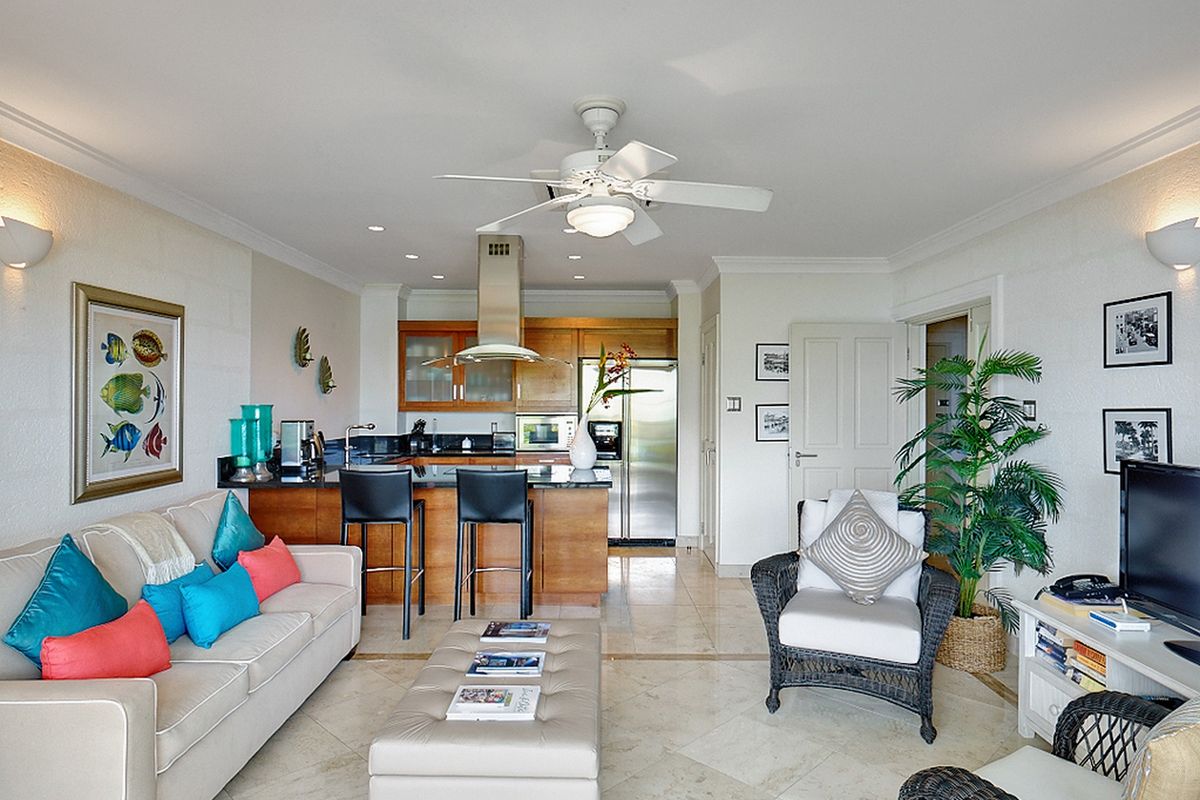 Spearheading this intimate beachfront apartment, the sunny balcony provides and idyll from which to adore scintillating views of the vast Caribbean Sea.
Please complete your details below to start your booking
---
Details
Situated on the exclusive West Coast of Barbados, the Waterside development has spacious 1, 2 & 3 bedroom apartments and Penthouses, offering its residents all the benefits of its sought after tranquil and secluded beach frontage, with breathtaking views over Caribbean Sea to enjoy from your terrace.
Located in Paynes Bay on the West Coast, Waterside will offer its guests an idyllic setting in a tropical paradise, with all modern amenities close at hand. Holetown, a mere five minutes North, with its supermarkets, banks, duty-free shopping facilities, boasts some of the islands best restaurants, from the affordable to the exclusive. Water sports are available within a few minutes' walk and several world class golf courses are just a short drive away. The world famous 'The Cliff' restaurant is a short walk away, while Daphne's restaurant is even closer. The Sandy Lane Hotel is a comfortable stroll up the beach.
Facilities
Beachfront
Air conditioning
Cable TV
Ceiling fans
Close
Communal swimming pool
Covered parking
Electric gates
Elevator
Enclosed Gated entrance
Gym
Hair dryer
Night watchman
Restaurants close by
Safe
Terrace with Sea Views
Location
Reviews
Just wanted to drop a line to confirm what an excellent holiday we had at Waterside 405, the apartment, and service we received was second to none.
---
An amazing week at Waterside 405. The villa was clean, beds were comfortable and all was exactly as the photos. The location was extraordinary, as we watched sunsets at night and fishing boats in the morning. We loved walking the pristine beaches, and floating in the ocean waves or pool, in the afternoon. The location was outstanding, we could walk easily to the area's amazing restaurants and the Paynes Bay Fish Market, home of the freshest tuna, in the world! They even tell you how to prepare and cook like a gourmet Bajan chef! I recommend Waterside 405.
Rates
Rates shown subject to local taxes
Currency
1 Bedrooms (Sleeps 2)
Low season rates from:
| Period | Per night |
| --- | --- |
| 11/01/23 to 14/04/23 | $450 |
| 15/04/23 to 14/12/23 | $300 |
| 15/12/23 to 19/12/23 | $450 |
| 20/12/23 to 10/01/24 | $600 |
| 11/01/23 to 14/04/24 | $450 |
| 15/04/24 to 14/12/24 | $300 |
| 15/12/24 to 19/12/24 | $450 |